Help With Flooring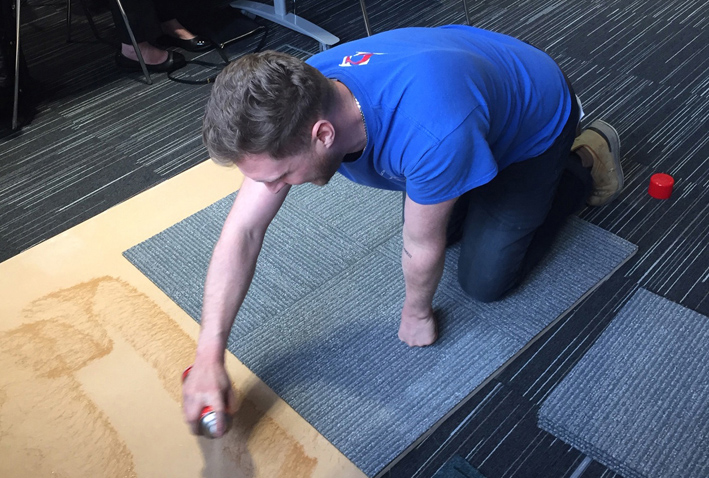 Flooring your home is a really big expense. If you're strugglng to buy carpets, vinyl or laminate then we might be able to help.
We've teamed up with Zero Waste Scotland to rescue good quality carpet tiles from office blocks across Scotland and we're offering these to Melville tenants free of charge. You'll need to pick them up from our office and you'll need to lay them yourself but it's a pretty straightforward job. There are plenty of videos available online to help you, like this one.
To find out more contact your housing officer, or send us an email.
1. How can I get carpet tiles for my home?
Free carpet tiles are available to Melville tenants, subject to availability.
To find out more contact your housing officer, or send us an email.
2. What condition are the tiles in?
All tiles are in good, used condition (sometimes we have brand new ones) but we recommend you come to the office to see them before deciding if they are right for you.
3. What do you need from me before I can get the tiles?
We need to know the approximate size of the rooms you wish to carpet and you'll need to choose the colour of the tiles you want from the stocks we have when you contact us. We can send you photos or you can pop into the office to see them for yourself.
4. Can you lay them for me?
Unfortunately not. You need to collect and lay the tiles yourself, however they are very easy to fit and we will also supply the glue.
5. What preparation will I need to do before laying the tiles?
Laying carpet tiles is a fairly easy DIY job with little preparation required. Before you start make sure:
all surfaces are clean and free of large items of furniture
if you're laying on uneven surfaces such as bare floor boards, then you have plywood or similar to lay underneath. Unfortunately we can't provide this but it can be picked up pretty cheaply from DIY shops. The tiles can usually be laid directly on to any flat surface such as concrete or vinyl
you have the necessary cutting tools for the job
6. Will I need underlay?
No, underlay is not needed with carpet tiles.
7. What if I need to clean them?
We also have a carpet cleaner that you can borrow for free (on payment of a refundable £10 deposit). We'll also provide the carpet shampoo.
8. What if none are available?
If none are available when you get in touch we'll add you to a waiting list.